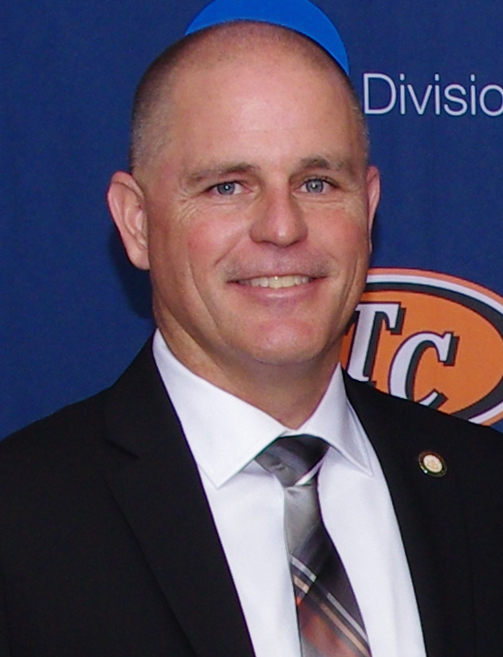 Director of Athletics
Doug Jones
Doug Jones was appointed to the position of Director of Athletics at Tusculum College on February 29, 2016. He was named the interim director in November 2015. Jones continues to serve the dual role as the College's head baseball coach, a position he has held since 1998.
Jones oversees the day-to-day operations of the Tusculum athletic department and the 18 sports that the College sponsors, including men's and women's track & Field, which will begin competition during the 2017-2018 academic year.
In his brief stint as athletic director, Jones has directed the search team which landed former Jacksonville University associate head coach Jerry Odom as Tusculum's new football coach. He also named Devan Carter as women's basketball coach following the team's a seven-win improvement for the program.
Over the last four years, Jones served on the NCAA Division II Baseball Championship Committee, including three as national chairman.
For 19 seasons, Jones has served as the head baseball coach at TC and is the winningest coach in the history of the program. Jones has guided Tusculum to 16 consecutive winning seasons, while posting 650 victories in his 19campaigns in Greeneville.
Jones has directed the baseball program into one of its most successful and exciting periods. His last 14 teams have posted 30-win campaigns, including five of the last 12 that have eclipsed the 40-win plateau. The best year during that run was a 50-14 campaign in 2007. In its last 10 seasons, TC is an amazing 419-174-1 (.706), including five South Atlantic Conference Championships, four SAC Tournament titles and seven trips to the NCAA Division II Tournament.
The 2012 club got the season off to a sizzling start by winning the first 15 games of the year and continued that string of wins into conference play where the Pioneers posted a 24-3 SAC record to capture the program's fifth regular season title. The 24 SAC wins are a new school and conference record. For his efforts, Jones was named SAC Coach of the Year for a third time in his career. TC also won four straight games to claim the SAC Tournament title for a third time in school history, outscoring the opposition by a 51-11 margin, including 13-0 in the first inning alone as the Pioneers never trailed in the tournament.
In 2012, Jones achieved a personal milestone as he recorded his 500th career win at Tusculum in a 4-3 victory over conference rival Catawba (Apr. 6, 2012). The Pioneers advanced to the final day of the NCAA II Southeast Regional as TC finished third in the event and ended the season ranked ninth in the country, its best end of the season ranking in school history.
The 2012 team boasted five All-American and All-Region performers, while seven garnered All-SAC recognition. TC swept all the major conference awards in 2012, including the SAC Scholar Athlete Award for Baseball, which was captured by pitcher Taylor Rakes. Rakes would later receive the coveted SAC Presidents Award, which is the highest honor given to a student-athlete by the league. Rakes and TC utility player Cody Coffman would also be named to the Capital One Academic All-America® Baseball First Team.
Tusculum's 50 wins in 2007 are still a school and conference record, including an amazing 23-game winning streak, both Tusculum and SAC bests. Tusculum finished the year ranked No. 10 in the NCAA II and was one of only seven programs in the country with 50 victories. For his efforts, he was named SAC Coach of the Year.
Jones has mentored 81 All-South Atlantic Conference honorees at Tusculum, including four SAC Players of the Year (Shane Banks - 2001; Guy O'Connell - 2003; Maikol Gonzalez - 2007; Jared Richmond - 2010) and five SAC Pitchers of the Year (Brent Gabel - 2005; Kevin Hammons - 2007; C.J. Hillyer - 2009; Craig Goodman - 2012; Placido Torres - 2016).
In 2009, Tusculum won its first 13 league contests, en route to posting an 18-4 SAC mark and winning the league crown for a fourth time in five years. The 18 league wins tied a then school record for most conference victories in a season. For his efforts, he was named the SAC Coach of the Year for the second time in his career.
At Gardner-Webb University, Jones was a four-year letterman as a middle infielder and set a then South Atlantic Conference record with eight runs batted in a single contest (1991 vs. Wofford). He also earned SAC All-Academic honors as a player at Gardner-Webb. He holds a bachelor's degree in administrative management as well as a master's degree in physical education from GWU.
A native of Norfolk, Virginia, Jones grew up in a baseball-oriented atmosphere with his father, Bob Jones, who coached for more than 20 years in the Norfolk area. His older brother, Robbie Jones has logged coaching experience at Emmanuel College in Franklin Springs, Georgia.
Jones is married to the former Dawn Roshto of Norfolk, Virginia, and they are the proud parents of two daughters; Katlyn and Allison.